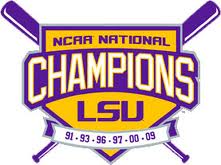 LSU is in the championship round of the Baton Rouge Regional after a 4-2 win over Rice on Sunday night at Alex Box Stadium. Alex Lange pitched like an ace as he tossed eight plus innings, allowing just two runs and striking out 10.
Lange threw 112 pitches and also had to wait out a one hour rain delay to earn his 8th win of the year.

Hunter Newman pitched the 9th inning, after Lange gave up a lead-off single in that inning. Newman gave up an infield single, but that was it for his 7th save of the year.
The only offense for the Tigers came in the 1st inning off of Rice starting pitcher Jon Duplantier. With the bases loaded, LSU first baseman Greg Deichmann hit a shot down the right field line and the ball got stuck underneath a bench in the bullpen. The Rice right fielder, Charlie Warren, went after the ball, which kept the play alive and allowed everyone to score. If Warren had not tried to get the ball, it would have been a ground rule double.
LSU will play again on Monday night at 7 PM against the winner of a 2 PM contest between Rice and Southeastern Louisiana. The Lions kept their season alive by eliminating Utah Valley by a score of 3-2 on Sunday afternoon.