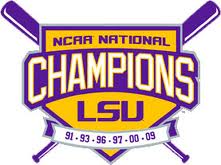 LSU finished off a solid weekend with a 4-2 victory over Southeastern Louisiana on Sunday afternoon. The win over the Lions followed up victories against Sacred Heart and Toledo on Saturday and Friday.
Good pitching from LSU was the theme. Zack Hess and Caleb Gilbert had outstanding starts in the first two games of the weekend.

LSU right-hander AJ Labas made his first start on Sunday after undergoing back surgery in December. He let a couple of runners on in the first inning, but got out of it and ended up pitching two scoreless innings.
Freshman Ma'Khail Hilliard was dominant in relief and earned the win. The former Central Wildcat tossed four innings, allowed just one hit and struck out four. Hilliard has started the season by throwing 12 straight scoreless innings.
Trent Vietmeier gave up two-run home run in the 7th inning, but that was all the scoring for Southeastern Louisiana as Nick Bush and Austin Bain made sure there was not a Lion rally.
LSU center fielder Antoine Duplantis started the scoring with a solo home run in the 1st inning. Beau Jordan made it 2-0 with another solo blast in the 3rd inning. It was his 3rd home run of the season and he's now hitting .405 on the season.
Daniel Cabrera had an RBI double in that inning to make 3-0.
Duplantis finished the scoring for LSU with a sacrifice fly in the 5th inning.
The Tigers are now 8-4 on the season. They have another busy week coming up. LSU hosts Southern on Tuesday, visit UL Lafayette on Wednesday and then Hawaii is at the Box for a three-game series starting on Friday.