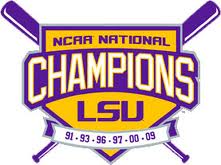 By Jeff Palermo
LSU starting pitcher Alex Lange made one bad pitch. That was to the first man he faced in Thursday's SEC series opener with Mississippi State. After giving up the long ball, Lange put together his third straight dominant performance in a 3-1 win over the Bulldogs.
Lange tossed seven strong innings, allowing six hits, five walks, but he struck out 11. He's now 7-5 with a 2.68 ERA.
Twice, the junior right-hander had the bases loaded, but both times he was able to wiggle out of those jams without giving up a run. His last pitch resulted in a strikeout with the bases loaded in the 7th inning.
This season, hitters are 0-for-17 with 12 strike outs when the bases are loaded against Lange.
Mississippi State left a dozen runners on base on the night.
Ryan Gridley's home run in the 1st inning made it 1-0. LSU took the lead in the 4th inning. Josh Smith had a sacrifice fly for an RBI and Zach Watson singled another run home to make it 2-1.
LSU added an insurance run in the 8th inning, as Watson drove in another run with a sacrifice fly.
The Tigers bullpen was very good as well. Zach Hess pitched a clean inning in the 8th inning and Hunter Newman earned his 9th save.
The win gives LSU a 19-9 record in the SEC. They are in a three-way tie with Kentucky and Florida for first place in the overall standings. The Wildcats devoured the Gators 12-4 on Thursday night.
LSU can clinch the SEC West with a win on Friday over the Bulldogs. Senior lefty Jared Poche starts for the Tigers. He's 8-3 with a 3.16 ERA. Freshman right-hander Denver McQuary will start for the Bulldogs. He's 2-2 with a 3.89 ERA, with 32 walks and 31 strikeouts.
First pitch is at 6:30.