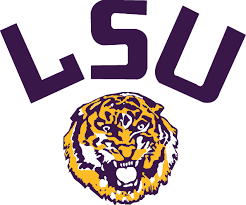 Not sure what nickname they'll give this latest chapter of the LSU-Auburn series, but it goes down as the largest come from behind win in Tiger Stadium since 1949. Down 20-0, the Tigers roar back for a 27-23 upset win over 10th ranked Auburn.


LSU was completely outplayed in the 1st quarter. Auburn's offense was moving the ball at will, Tigers WR D.J. Chark had a costly fumble and the LSU offense was sputtering.
The Tigers started clawing back in the 2nd quarter. On 4th-and-goal from the one-yard line, wide receiver Stephen Sullivan on the jet sweep scored a touchdown to make it 20-7.
After an Auburn field goal, LSU drove 75 yards on 8 plays to score a touchdown to make it a game. Danny Etling lofted a pass to the corner of the end zone and wide receiver Russell Gage made a beautiful diving grab and after the extra point, it was 23-14.
No scoring in the 3rd quarter, but on the 2nd play of the 4th quarter, Chark returned a punt 75-yards for a touchdown to make it 23-21.
Auburn couldn't do anything in the 2nd half. Dave Aranda's defense only allowed 64 yards in the 2nd half.
LSU eventually mustered a seven-play, 19-yard drive, finished by Connor Culp's 42-yard field goal to give the Tigers their first lead, 24-23 with 2.36 left. Culp connected on another 36-yard field goal with 38 seconds left and the defense did the rest.
LSU middle linebacker Devin White had 15 tackles and two tackles for a loss. Free safety Grant Delpit gave up a long touchdown pass in the 1st quarter, but came back to finish with 8 tackles, and two pass break ups.
Greg Gilmore had a sack and Arden Key showed up for the first time this season and had a sack on Auburn's final offensive play of the game.
Etling was 13-of-24 for 206 yards and one touchdown. Derrius Guice looked more like himself and rushed for 71 yards on 20 carries. Chark had a huge game, 5 catches for 150 yards.
A key stat in this game, LSU was 6-of-17 on 3rd downs, while Auburn was just 3-of-14.
LSU once again played three freshmen on the offensive line, as starting tackles KJ Malone and Toby Weathersby were out with injuries. The o-line played much more aggressive in the 2nd half.
LSU is now 5-2 overall, 2-1 in the SEC. They will visit Ole Miss next Saturday. The Rebels won their first SEC game of the year as Ole Miss was victorious over Vanderbilt 57-35.