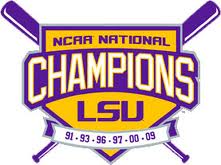 LSU trailed 7-3 heading into the bottom of the 9th inning, but a fielding error by Tennessee shortstop Andre Lipcius opened the door for the Tigers dramatic comeback, completed by freshman Daniel Cabrera's three-run homer and 9-7 win to complete a sweep of the Vols.
Up until the 9th inning,
Tennessee starter Will Neely held LSU's bats in check.
But an error, a Beau Jordan single and then another error chased Neely from the game.
Tennessee's bullpen couldn't put out the fire. An Austin Bain double cut the deficit to one and then two batters later Cabrera sent the Tigers home winners.
Taylor Petersen was the winning pitcher. His first win of the year as he recorded just one out.
Devin Fontenot made his first start and went two innings, allowing one run. Tough outings for AJ Labas and Nick Bush as he gave up three runs.
But LSU still recorded its first SEC series sweep of the season and it was career win number 1,400 for Head Coach Paul Mainieri.
And since 1972, LSU is just 2-and-303 when trailing by four-plus runs entering the 9th inning. The other win was the Rally Possum game against the Razorbacks in 2016.
The Tigers are 9-6 in the SEC, 24-13 overall, one game back of Arkansas for first place in the SEC West.
LSU begins a four-game road trip on Wednesday when they visit Tulane and then visit South Carolina this weekend. The Gamecocks are 6-9 in the SEC.