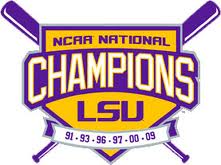 The LSU baseball team, ranked number one by Collegiate Baseball, plays the UL-Lafayette Ragin Cajuns in a top ten match up. First pitch is at 6:30 at Alex Box Stadium in Baton Rouge. The Cajuns are ranked 10th by Baseball America. LSU Coach Paul Mainieri says this will be great test for the entire team.

"There's no question ULL will be the best team we face at this point in the season. They've got a vetern team. I think eight everyday players back, a lot of experience. They played us in the finals of the regionals last year. It should be a packed house, great excitement, energy and just a great atmosphere," Mainieri says.
LSU found out yesterday they are ranked number one in the country. The Tigers are off to a 7-0 start to the season. Mainieri says unlike many coaches, he doesn't mind having his team ranked number one early in the season.
"I want them to feel like they're the best team in the country. When you're at LSU that's what you aspire to be and when you're ranked number one in a poll, even though it's a very subjective thing and different polls have different rankings. It's all just for fans to talk about, I understand that, but at the same time I think it's not such a bad thing when every newspaper in the country publishes a poll and there's LSU at the number one spot," Mainieri says.