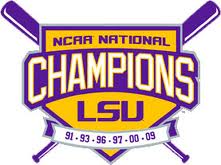 Kentucky's tall right-hander Sean Hjelle came into Thursday night's game as the SEC Pitcher of the Year. But LSU's Alex Lange and the Tiger bats were not intimidated as they scored double digits off one of the best pitchers in college baseball.
LSU scored five runs in the 2nd inning, five more in the 5th inning for a 10-0 victory and a 9th straight victory.

Shortstop Kramer Robertson capped off the scoring with a towering home run over the left field fence to make it 10-0.
Antoine Duplantis also had a big night as he went 3-for-4 with an RBI.
Lange was sensational as he did not allow a run in seven innings. He struck out seven and surpasses Ben McDonald with 374 career strikeouts, second most in school history.
The game ended in the 7th inning thanks to the SEC Tournament rule.
Hjelle's final line, 5 IP, 11 hits, 10 runs, 9 earned runs, zero walks and 10 strikeouts.
And LSU is averaging eight runs a game during this 9-game winning streak.
Up next: LSU has Friday off and the Tigers will play again on Saturday in semifinals of the tournament. They'll face the winner of today's game between Kentucky and South Carolina.
But it seems like everyone is waiting for Sunday and a possible match-up between LSU and Florida in the tournament title game.