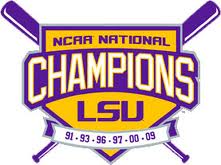 LSU won its 8th straight on Wednesday night with an 7-run victory over the Missouri Tigers in the SEC Tournament. Tigers second baseman Cole Freeman had a huge game as he went 4-for-4 with 4 RBIs and 2 runs scored in a 10-2 victory over Mizzou.

Freeman completed the scoring for the the Bayou Bengals with a 3-run homer in the 8th inning to cap a four-run frame. LSU also scored four runs in the 3rd inning.
Kramer Robertson and Antoine Duplantis also had a multi-hit games. Robertson went 2-for-4, with 3 runs scored and a run driven in. Duplantis was 2-for-5 with 2 RBI and a run scored.
Caleb Gilbert pitched very well to get a win in his hometown. The Hoover, Alabama, native allowed a home run in the 2nd inning, but that was it. Gilbert allowed 3 hits and struck out 3.
Nick Bush, Zack Hess and Matthew Beck did solid work out of the bullpen. Bush pitched two innings of scoreless baseball, while Hess and Beck each gave up one run.
LSU will play Kentucky on Thursday night at 8 PM in a winner's bracket contest. The Wildcats took two of three from Tigers in Lexington earlier this season.
All-SEC 1st teamer Alex Lange will start on the mound for the Tigers.