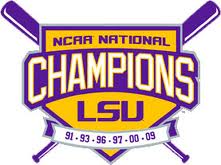 5th ranked LSU Tigers and 9th ranked Mississippi State meet for the final regular season series of the year and they'll battle for the SEC West title. The Tigers are 18-9 in the SEC, while the Bulldogs are 17-10 in league play.
LSU arrives in Starkville playing its best baseball of the season, winning 8 of its last 9 SEC games.


Mississippi State has lost 5 of its last 8 SEC games. But they feature the best hitter in the league. Brent Rooker leads the SEC in several hitting categories, a .406 batting average, 26 doubles, 20 home runs and 71 RBI.
LSU also features a great power hitter in Greg Deichmann, who slugged his 17th home run of the season in a 9-3 win over Northwestern State.
As a team, the Tigers are hitting .292, while the Bulldogs are hitting .287. LSU has scored 347 runs to Mississippi State's 310. The Tigers have hit one more home run, 48-47. The Bulldogs have the edge in stolen bases 66-58.
LSU has the advantage in starting pitchers. Alex Lange, Jared Poche and Eric Walker were sensational for the Tigers last week. Mississippi State has only one pitcher who has started every weekend and that's Konnor Pilkington. who will start on Thursday. He's 6-4 with a 3.44 ERA.
Freshman right-hander Denver McQuary will start on Friday for the Bulldogs. He's 2-2 with a 3.89 ERA has walked more hitters than he has struck out, 32-31.
Mississippi State has not named a starter for the series finale on Saturday.
Spencer Price has been good as a closer. He's saved 14 games with a 3-1 record and 2.28 ERA. State is 11-5 in one-run games.
The added spice to this series is the head coaches. Andy Cannizaro is the head coach of Mississippi State after spending the last two seasons as the hitting coach and recruiting coordinator for the Tigers.
LSU's Paul Mainieri was not happy that State AD John Cohen spoke to Cannizaro, before contacting him, but such is life in college athletics.
Game 1 is Thursday at 6 PM.
Game 2 is Friday at 6:30.
Game 3 is Saturday at 3:30.