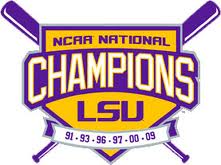 Five was the magic number for LSU in Columbia, Missouri. The Fighting Tigers had five run innings in victories over Mizzou on Friday and Saturday. In the series finale, LSU had two innings where they scored five runs on their way to 15-2 win over Missouri to complete the sweep in the Show Me State.


LSU took control of the game in the 1st inning when they scored five runs as they batted around. The first five runners reached and all of them scored.
The Tigers scored two more runs in the 5th inning as Bryce Jordan had a two-run single.
LSU put the game away with a 5-run 7th inning. In that inning, the Tigers hit 3 home runs. Jordan Romero and Greg Deichmann went back-to-back. Bryce Jordan also hit a ball that left the yard as he finished with 4 RBIs.
LSU had a season-high 20 hits. Romero led the way in his only start on the weekend. The catcher had four hits and drove in four runs.
Antoine Duplantis, Jake Fraley and Chris Reid each had 3 hits. Duplantis is now hitting .366 as the Tigers lead-off hitter.
John Valek was the winning pitcher as he threw six strong innings. Valek allowed five hits, two runs and struck out five.
LSU is now 25-11, 9-6 in the SEC. It's the first SEC series sweep of the season for the Tigers.
LSU returns to Alex Box on Wednesday to take on Southeastern Louisiana.