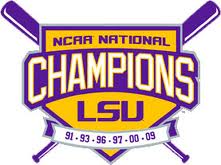 Usually, if you score just four runs in a doubleheader, you're likely on the receiving end of a sweep. But that wasn't the case in South Bend, Indiana, on Wednesday. LSU's pitchers allowed just two runs, as the Tigers swept the Fighting Irish, winning game one 1-0 in 11 innings and game two 3-2 in 7 innings.


Jake Fraley's 2nd home run of the season was the lone run in the first game, as he launched a solo home run over the right field wall to end a scoreless tie.
John Valek III started on the mound for the Tigers and pitched 4.1 scoreless innings, striking out five. Parker Bugg, Jared Poche, Russell Reynolds, Austin Bain and Hunter Newman also contributed to the scoreless effort.
Bain (4-0) earned the win, with two scoreless innings and Newman registered his fourth save.
In game two, the contest was scoreless until the 7th inning, until the Tigers broke through with a two-run single from Bryce Jordan. Chris Reid also scored on a wild pitch.
The Tigers only had eight hits on the day for both games.
LSU got an outstanding start on the mound from Riley Smith, who struck out four, scattered four hits in six innings. With the outing, Smith lowered his ERA from 12.46 to 7.36. Smith also won his first game in an LSU uniform.
Hunter Newman made it interesting in the 7th inning of a scheduled 7-inning contest. He gave up a hit and two walks to allow the go-ahead run to come to the plate.
Sophomore right-hander Jesse Stallings and walked one and threw a wild pitch. But he struck out the final hitter of the game to leave the tying run at 3rd base.
With the two victories, LSU improves its record 33-16, heading into an SEC series at Tennessee that starts Friday.