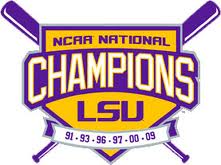 LSU and Mississippi State is one of the best rivalries in college baseball. But for only the second time in their long history, these two teams will meet in the postseason. They also met in a winner's bracket game in the 1998 College World Series, with the Tigers winning 10-8.


Game 1 of this Super Regional Series should see fewer runs. LSU's ace Alex Lange is expected to be the starter, while Mississippi State Head Coach Andy Cannizaro has already announced sophomore left-hander Konnor Pilkington will get the ball.
He's the Bulldogs top pitcher with an 8-5 record and 3.26 ERA. Lange and Pilkington faced each other May 18th and LSU won 3-1. That was the last time Pilkington lost.
Who MSU will start in Game 2 or Game 3 if necessary is a mystery, but Cannizaro will have confidence in who ever he throws out there after they won four games in a row to advance out of the Hattiesburg Regional.
Jacob Billingsley had a complete game victory in the regional finals against Southern Miss. On the season he's 2-3 with a 4.44 ERA.
Offensively, Mississippi State is led by one of the top players in college baseball. Brent Rooker is hitting .395 with 23 home runs and 82 RBIs. LSU managed to keep him in the ballpark in Starkville. But he still had seven hits during that three game series.
LSU brings a 14-game winning streak into the Super Regionals and the Tigers have scored 10 or more runs in seven of those games. As a team, LSU is hitting .295 on the season, second best mark in the league, behind Kentucky.
Mississippi State as a club is hitting .288 and they are aggressive on the base paths as they attempted 111 steals and they've been successful 74 times.
Expect clean play in the field during this series. These are the top two defensive teams in the league. They combined for four errors when they played each other in May.