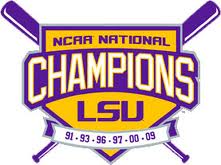 A three-run 4th inning and another great performance from freshman pitcher Eric Walker led to a 4-2 win over the Arkansas Razorbacks to claim the school's 12th SEC title, 6th for Coach Paul Mainieri tying him with Skip Bertman.
Walker (7-1) threw a complete game shutout against the Razorbacks earlier this season and nearly did it again on Sunday.

Walker gave up a solo home run in the 3rd inning, but that's all Arkansas could muster. The Texas right-hander went 7.2 innings, allowed five hits, one run and struck out a eight to tie a season-high.
Freshman Josh Smith and sophomore Antoine Duplantis led the Tigers at the plate. Smith was 2-for-4 with an RBI. Smith delivered an RBI single in the 4th inning to give the Tigers a 2-1 lead.
Duplantis was 2-for-4 with two runs scored. The Lafayette native went 9-for-16 at the plate.
First baseman Nick Coomes also drove in two runs. He walked with the bases loaded in the 4th inning and drove home Duplantis with a sacrifice fly in the 6th inning.
It got interesting in the 9th inning. LSU closer Hunter Newman gave up one run, but was able to record the final out with the bases loaded.
The Fighting Tigers allowed just five runs in four games in Hoover, Alabama.
LSU heads into NCAA Regional play with a 43-17 record. The pairings come out Monday at 11 AM and the Tigers will be a national seed for a 6th consecutive season.