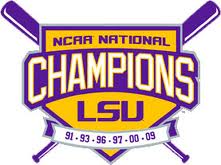 Run support has been an issue for LSU starting pitcher Alex Lange. That wasn't the case on Thursday night to open the series against Ole Miss as the Bayou Bengals routed the Rebels 15-2.
Left fielder Antoine Duplantis and right fielder Greg Deichmann led the offensive onslaught.

Duplantis, who was moved down to the number nine spot in the order last weekend, was 4-for-4 with 4 RBI and three runs scored. Deichmann was 3-for-6 with 5 RBI, as he blasted his second career grand slam to make it 14-0 in the 6th inning.
Jordan Romero and Cole Freeman also drove in two runs each.
LSU out hit Ole Miss 15-5 as the Tigers sent nine men to the plate in 5th and 6th innings. The home team scored 10 runs in those two innings. And LSU scored in every inning, except the 8th.
Ole Miss starting pitcher James McArthur had an ERA of 1.85 coming into the game. McArthur gave up six earned runs in 4.2 innings and did not strike out anyone.
Lange had his sharpest outing of the season. The junior right-hander retired 13 in a row to start the game and ended up giving up just three hits in seven innings. Lange had two runners on base in the 5th inning, but recorded two strikeouts to get out of the inning. He had 7 Ks on the night.
LSU can win the series on Friday night. Game 2 is at 7 PM. Before the game, the Tigers will retire the #12 jersey of Todd Walker, one of the greatest college baseball hitters of all-time.
Pitching match-up, senior southpaw Jared Poche (6-1, 2.32 ERA) starts for LSU, while Ole Miss counters with junior lefty David Parkinson (4-2, 2.85 ERA).