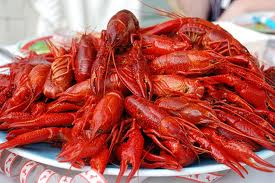 LSU AgCenter Researchers are studying the benefits of crawfish, as more than just a tailgating treat. Researcher and food processing and engineering professor Subramaniam Sathivel says currently, the tail meat from a crawfish is what is consumed. But he says they wanted to see what could be done with the undersized mud bugs, which have virtually no economic value.


"We were able to extract minced meat from undersized crawfish. During the process we were able to separate the shells and minced meat."
The minced meat, which is collected though a deboning machine, could be used for crawfish patties or crawfish flavoring. Sathivel says they are also researching how an antioxidant from the crustacean could help with Alzheimer's disease.
"We extract from crawfish shells, it is known as astaxanthin, it is a red pigment with antioxidant activity 10 times higher than lutein and beta-carotene."
Sathivel says in addition, this antioxidant can help with obesity related to stress and diabetes. He says this development will not only provide significant health benefits but…
"This particular research project will help our, especially Louisiana, economy. That's a key."