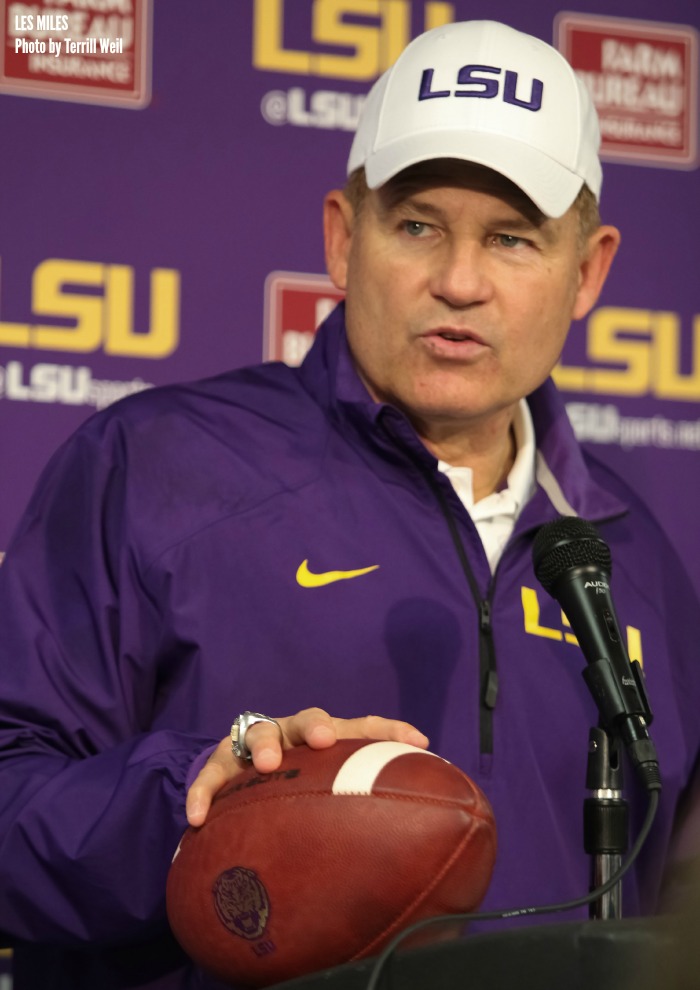 Time ran out on the LSU Tigers on Saturday night in their loss to Auburn and time has also run out on head football coach Les Miles and offensive coordinator Cam Cameron.
Athletic Director Joe Alleva has made the decision to fire Miles and Cameron and name defensive line coach and recruiting coordinator Ed Orgeron interim head coach.
"Decisions like this are never easy ones to make," Alleva said. "Coach Miles has done a tremendous job here and he's been a great ambassador for our University, which makes this even more difficult.
"However, it's apparent in evaluating the program through the first month of the season that a change has to be made. Our commitment to excellence and competing at the highest level is unwavering, and our goals for the remainder of this season haven't changed. We have an obligation to our student-athletes to put them in the best position to have success on the football field each week and we have great confidence that coach Orgeron will do just that."
After nearly getting fired last November, the LSU football team is 2-2 for the first time since 2001. Once again, the Tigers offense is to blame for the team not reaching its expectations. The pass offense ranks 119th in the country and 111th in total offense.
The football program has been on a decline since losing to Alabama in the BCS National Championship game in January 2012. The Tigers have lost five straight to Alabama and the situation has tailspun lately as the Tigers have lost four of their last five SEC games.
Miles arrived at LSU in 2005 from Oklahoma State and finishes with a record of 114-34. No other program in the SEC has more wins during that time.
His teams were known for its dramatic wins. The Tigers had 24 fourth quarter/overtime comeback wins since 2005.
Miles leaves LSU as the second winningest coach in school history. Only the late Charlie McClendon had more, as he notched 137 wins in 18 years.
Orgeron will assume head coaching duties. He's been on LSU's staff since 2015, but has been a lifelong LSU fan. As a high school football player, he starred at South LaFourche High School and played college football at Northwestern State.
Orgeron was the head coach at Ole Miss from 2005-2007, but only won 10 games. Oregeron was also an interim head coach at USC in 2013.
Tiger Rag Magazine has learned former LSU assistant under Nick Saban, Pete Jenkins, has been brought in to coach the defensive line. Tight ends coach Steve Ensminger has been promoted to interim offensive coordinator.