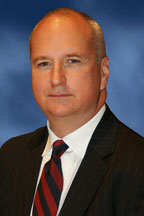 A candidate for the soon to be vacated fifth congressional seat says it appears the election is rigged. State Representative Jay Morris, a republican from Monroe, plans to qualify for the October primary next week, but he says Rodney Alexander's retirement from Congress and quick decision to join the Jindal administration are peculiar.
"Alexander announces he's not going to run again, fair enough, and then day two everything changes, he's got a job and then Senator Riser announces the same day," Morris said.
On August sixth, Alexander announced he was resigning from the US House. The next day Alexander accepted the job as the Louisiana Secretary of Veterans Affairs. State Senator Neil Riser of Columbia announced his candidacy right away. Morris says the whole thing appears to be rigged so Riser can win.

"The timing is suspicious."
Riser, Alexander, a Jindal spokesperson and political consultant Timmy Tepell, all deny they worked to give Riser an advantage over his competition. Morris says even though the cards seemed to be stacked against him, he will enter race.
Qualifying for the 5th Congressional district race will begin Monday, August 19th.