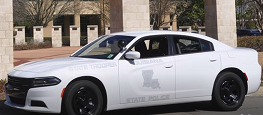 Starting this month, Louisiana State Police will add Dodge Chargers to their fleet with a twist. Some of the new vehicles will be fully marked, while others will be semi-marked and a few will not be marked at all.
Lt. J.B. Slaton says the new less visible vehicles will allow Troopers to blend in with traffic and stop drivers who are reckless.
"It's not a ticket writing thing, it's not a revenue thing. It's a public safety thing and trying to get those aggressive drivers off the road."
State Police have used a uniform logo up to this time. Slaton says using a "ghost logo" will help them blend in better which hopefully translates to safer driving.
"It's still reflective, it's easy to see at night and it's just harder to see from greater distances. So it allows us a little bit more of maybe a tactical advantage while we're patrolling the roadways for those aggressive drivers."
State Police realize there will be drivers who think they are trying to camouflage themselves better, especially with the less visible reflective silver lettering and logos and lower profile blue lights instead of traditional overhead light. But Slaton says safe law abiding drivers have nothing to worry about.
"We wanted to be transparent to the public. We made a Facebook post and sent some pictures. We wanted people to know to expect a little bit different look from us out there on the road."