Posted on 1/19/2018 3:22:00 AM.
A legislative task force is recommending Louisiana loosen its restrictions on where gambling can take place. The task force put forward two recommendations to make bayou gaming more nationally competitive. Lake Charles Senator Ronnie Johns says one of those proposals involves allowing riverboat casinos some inland real estate.
riverboats, gaming, gambling, Ronnie Johns, Louisiana
---
Posted on 1/19/2018 2:04:00 AM.
Jury selection in the second degree murder trial involving Joe McKnight's shooter should conclude Friday, after having been delayed due to the recent extreme winter weather conditions. The former NFL and John Curtis runningback McKnight was shot by Ronald Gasser on a roadside in Jefferson Parish in December of 2016. Loyola Law Professor Dane Ciolino says the defense is claiming McKnight tried to enter Gasser's car after a road rage incident.
Joe McKnight, crime, trial
---
Posted on 1/18/2018 4:01:00 PM.
Frank Selas, known as Mr. Wonder on a Monroe children's television show in the 1970s, accepted a plea deal in Rapides Parish, where he'll serve five years for sexually assaulting a child during a camping trip in 1979. Selas gets two years credited for time served and will not have to register as a sex offender since the sex offender registry didn't exist when the crime was committed. Legal analyst Tim Meche says this is exactly how a plea agreement is supposed to work.
More
Frank Selas, Tim Meche, Mr. Wonder, Mike Small, Rapides Parish, KNOE-TV
---
Posted on 1/18/2018 1:29:00 PM.
Residents in Louisiana were asked by their utility companies to conserve power for a time period Thursday morning as energy demand was getting close to being more than what the power grids could handle.
Midcontinent Independent System Operator, Sheila Pounders, Entergy
---
Posted on 1/18/2018 11:59:00 AM.
Michelle Southern reporting.
Water pressure has become a concern across Louisiana in the wake of the recent arctic blast, which has prompted some parishes to issue boil water advisories. So why does this happen? Louisiana Department of Health Chief Engineer Amanda Laughlin says when a hard freeze event takes place, pipes burst and there are an extremely high number of line breaks.
water pressure, boil advisory, department of health, amanda laughlin
---
Posted on 1/18/2018 11:29:00 AM.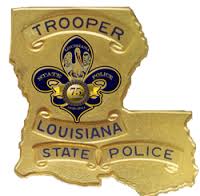 An off-duty Alexandria police officer was killed in an accident in Grant Parish Wednesday. 53-year-old Sgt. Travis Lowe of Deville was southbound on Highway 167, when he lost control of his pickup truck and collided with a large tree. Master State Police Trooper Scott Moreau says the frigid weather didn't play a factor in the accident.
Travis Lowe, Scott Moreau, Alexandria Police Department
---
Next Entry