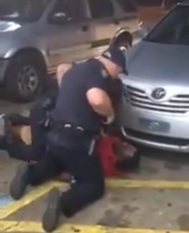 Baton Rouge Police Chief Murphy Paul announces officer Blane Salamoni has been fired, while fellow officer Howie Lake has been suspended for three days in the July 2016 shooting of Alton Sterling.
Paul came to the decision after an internal review of the altercation between Sterling and the two officers. Video evidence shows the situation quickly escalated and the episode ended when Salamoni shot Sterling six times.
"One officer attempted to use deescalation and disengagement techniques consistent with policy and procedure and training and
one officer did not follow the tactics, professionalism and organizational standards," Paul said.
Body camera video from officers was also released on Friday afternoon. The officers arrived at the Triple S Food Mart after receiving a call about a man who waved a gun at another person.
Officer Lake was first to arrive and Salamoni came upon the scene a short time later. Salamoni is the more aggressive officer, using profanities and telling Sterling he'll shoot him in the head, if he doesn't listen to their commands.
Paul says Salamoni's actions are in violation of their policies and procedures.
"A violation of use of force has been sustained and a violation of command of temper has been sustained."
The decision to fire Salamoni and suspend Lake, comes days after Louisiana Attorney General Jeff Landry announced the two officers would not face criminal charges.
Paul says his decision was not based on politics or emotion, but the facts of the case.
"It's the right thing to do, it might not be the popular decision, but it was the right decision, no doubt about it and we are confident in our administrative process and the work we put together."
Before the shooting, Sterling was tased and then Salamoni tackled him, which led to a struggle on the ground. During the video, you can hear one of the officers yelling he's going for his gun. That's when Salamoni fired six shots into the body of Sterling.
A revolver was found in Sterling's pocket.
An attorney for the Sterling's family, Chris Stewart, says Salamoni's actions in the video is a prime example what some black people face in the inner city when they are approached by a white officer.
"It was clear Blane Salamoni came out like a pit bull and immediately escalated the entire situation, putting a gun to this man's head, using profane language, threatening his life and ended up taking his it," Stewart said.
Stewart added that the violent video illustrates why a grand jury should have been called to see if charges are warranted against Salamoni and hopefully the tragic shooting of Sterling will lead to changes.
"We have to get an independent body that is elected nationally to look into officer involved shootings where it can't be influenced by the local political people," Stewart said.
Another Sterling attorney, Michael Adams, is glad the videos have been released, so the public can see how reckless Salamoni acted when he ended the 37-year-old man's life.
"That Alton Sterling was not some wild deranged, cocaine filled, high, big black man that was out of control, the person that was out of control was Blane Salamoni."