Posted on 8/23/2017 3:55:00 PM.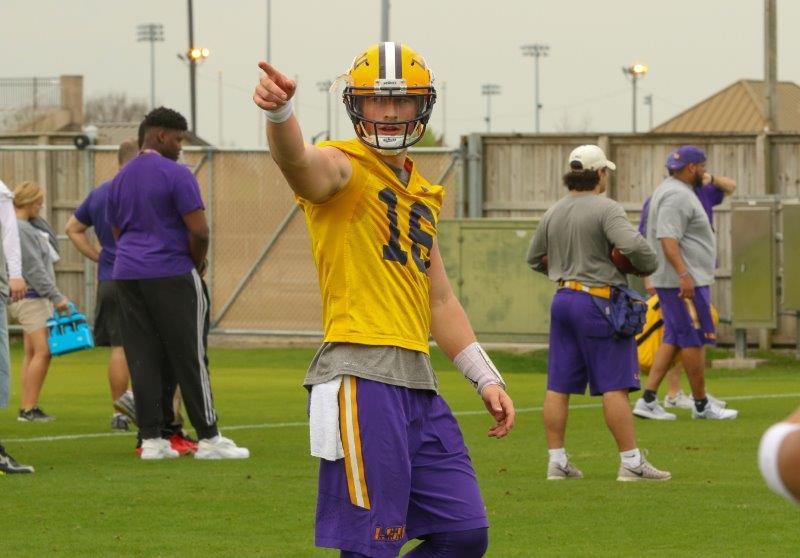 Michelle Southern reporting.
LSU quarterback Danny Etling is excited about being named the stater when the Tigers hit the field September 2nd against BYU in Houston. The fifth year senior says he's never entered a season without competing hard for that starting job.
Danny Etling, LSU, Ed Orgeron
---
Posted on 8/23/2017 11:54:00 AM.
Tropical Depression Harvey has re-formed in the Gulf of Mexico and it could be a significant rainmaker for Louisiana. Joe Rua, with the National Weather Service in Lake Charles, says Harvey is expected make landfall as a strong Tropical Storm near Corpus Christi, Texas on Friday, but Louisiana will certainly feel the impact.
More
Harvey, Joe Rua, Jim Waskom
---
Posted on 8/23/2017 11:48:00 AM.
A 38-year-old man has been arrested for allegedly assaulting an elderly man in Opelousas in a road rage incident. Police Chief Donald Thompson says they arrested Joshua Babineaux this morning after the public recognized him from surveillance video released to the media. He says the attack happened after the 72-year-old victim supposedly cut off Babineaux and they pulled over.
More
Opelousas Police Department, Donald Thompson, Joshua Babineaux
---
Posted on 8/23/2017 10:51:00 AM.
Thousands have signed a petition on Change.org that seeks to replace statues of Confederate soldiers in Louisiana with pop star Britney Spears. Rayne native and petition creator, Kassie Thibodeaux, says Spears is a Louisiana hero who should be memorialized.
More
Britney Spears, Confederate monuments, Kassie Thibodeaux
---
Posted on 8/23/2017 6:09:00 AM.
LSU is proud of its new live mascot Mike VII, which came from a rescue facility in Florida. When Mike Six passed away, the school rejected offers from breeders, instead LSU System President F King Alexander says they wanted to save a Tiger that didn't have a permanent home.
More
Mike VII, Mike the Tiger, LSU, David Baker, F. King Alexander
---
Posted on 8/23/2017 4:59:00 AM.
People all over Louisiana are rushing to get a Powerball ticket as tonight's jackpot has reached $700-million, with a cash value of $443 million. Louisiana Lottery Spokesperson Kim Chopin says they've had sales in the Bayou State over 20-million dollars just for this run.
More
Powerball, Louisiana Lottery, Kim Chopin
---
Next Entry