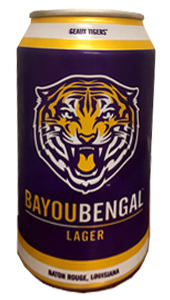 A proposal by Shreveport Representative Cedric Glover would put an end to official university beers. LSU and UL-Lafayette already have their own trademarked beers from local breweries. Glover says in Louisiana, you can't drink under the age of 21, which applies to most college students. He says schools branding their own alcohol only encourages underage drinking.


"This is a situation that I think lends itself to encouraging and facilitating underage drinking. It's something that is obviously a problem here in the state of Louisiana in particular," Glover said.
Opponents to the measure are concerned about universities losing their portion of the money from the beer sales. But Glover says there should be some limit in terms of what we're willing to do for money in this state. He says lawmakers need to fund priorities higher education so universities aren't forced to look for other revenue streams.
"We should not ever allow ourselves in the desperate pursuit of money and funding to put ourselves in a position where we're willing to make these sorts of deals and engage in this type of commerce," Glover said.
LSU officials say companies already use school colors and logos to promote their beers, and the universities deserve their fair share of that money. But Glover says if that's the case, then universities should start paying college athletes their share of the revenue they generate.
"The young people who actually play and participate in the sports that create the kind of high energy and activity that ends up being connected to our universities, it's probably past time for those young folks to be able to have their fair share of the revenues as well," Glover said.