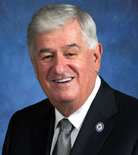 As the regular legislative session begins today, the state faces an 800 million dollar deficit for next fiscal year with no way to raise additional revenue. Bills to raise taxes cannot be considered in this session. Senate President John Alario hopes this is a learning experience for legislators who were unwilling to raise more revenue during the special session.


"It's going to be very difficult and hopefully once people get to understand it, we won't be able to avoid having a special session after this one."
Alario says as long as there is another special session before July 1st the funds could be allocated for the next fiscal year and hopefully close the gap. He says Commissioner of Administration Jay Dardenne is looking into all the state's contracts to see if we can get some savings during the regular session.
"I think lots of people will have the opportunity to scale back some areas in government that they think are not necessary and we welcome that. This will not be the opportunity to eliminate $800 million simply by cuts."
Alario says we could see changes to TOPS. He says there are suggestions to raise the academic standards or limit the financial award a TOPS recipient receives.
"At least not take it away from the kids who have worked so hard to achieve that accomplishment."