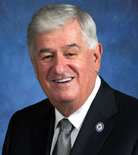 Senate President John Alario says the upper chamber is committed to fully funding the TOPS scholarship program. Alario says the House budget plan takes money away from the Department of Health to fully fund TOPS and they are taking a close look at that proposal.


"Two vital areas in the state that need adequate funding but I believe the Senate is going to do all it can to maintain the TOPS funding."
Alario says tapping into $200 million that has yet to be allocated could reduce some cuts in multiple departments, as the House wants to only use 97.5% of what the Revenue Estimating Conference says is available. He is concerned the Department of Children and Family Services is not properly funded.
"What's not funded now is adequate funds to go rescue children who are being abused in homes, foster children. To make sure that they are properly supervised."
A measure filed by Baton Rouge Representative Franklin Foil would raise the GPA requirement from 2.5 to 2.75 and would save the state $17 million a year. Alario expects any changes to TOPS will be unsuccessful in the Senate. He says too many students rely on the program.
"Not every child is going to be an A student so we need to provide the opportunities for children to try to excel and move on, so I'm not sure raising the standards makes that much of a plus for us."