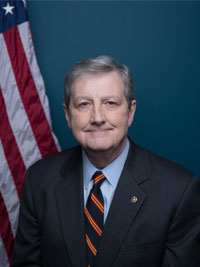 Both of Louisiana's US Senators voted to appropriate $15 billion in disaster aid for victims of Harvey, which nearly doubles what President Donald Trump requested. Junior Senator John Kennedy says this federal funding will help our neighbors grapple with the destruction Harvey left behind.


"The people of Texas pay a lot of money to the federal government in taxes, and now they're entitled to get a little bit of it back after what happened to em," Kennedy said.
Kennedy says without this federal support, many disaster victims won't be able to rebuild their homes and businesses. He says unfortunately, many Louisianans can relate to the hopeless feeling that comes from losing everything in a disaster. He has a message for those struggling to find hope.
"As our friends in Texas go about rebuilding their homes, a lot of times they're going to want to give up, and my advice to em is don't. You'll get through this, but there are going to be times you think you won't," Kennedy said.
Kennedy says although it hasn't always been the case, FEMA is doing a good job lately, especially with Administrator Brock Long at the helm. He says the rest will be up to them, since his job ends with providing the funds.
"They've been very good so far at cutting red tape. I'll leave it to them to decide what the best programs are to help our friends in Texas. Every state's different," Kennedy said.
The vote was 80-17 in the Senate and now heads to the House for their approval.