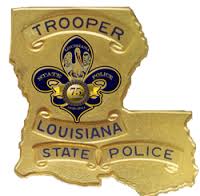 A Lincoln Parish sheriff's deputy is recovering and a suspect is dead following an officer-involved shooting on Highway 80 on Tuesday at noon. State Trooper Michael Reichardt says the fatal incident occurred after the unnamed deputy conducted a traffic stop.


"A Lincoln Parish sheriff's deputy made a traffic stop on a vehicle. At some point during the traffic stop an altercation occurred. At some point during that altercation shots were fired," Reichardt said.
Reichardt says the deputy was shot, but his bulletproof vest deflected the round. He says the deputy then returned fire on the suspect.
"The suspect was shot and pronounced dead at the scene by the coroner's office, and the sheriff's deputy was shot and taken to a local hospital with non-life-threatening injuries," Reichardt said.
Simsboro High School was placed on lock down following the incident. Reichardt says state police will lead the investigation into the shooting, as there are still many unanswered questions.
"We're in the process of interviewing people, going back and looking to see if there's any video footage of anything. It was in close proximity to Simsboro High School. So of course we've got to interview any witnesses who may have seen everything," Reichardt said.