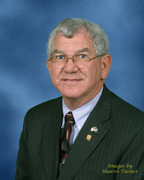 Some lawmakers are not happy with the Office of Motor Vehicles decision to stop accepting cash as a form of payment. OMV Commissioner Karen St. Germain announced the new policy as a way to save the money and prevent theft by state workers. Jonesboro Senator Jim Fannin says a lot of senior citizens do not have credit cards. He says it's unfair citizens can't use cash, because employees might steal the cash.


"If that's the case then it's unreasonable to think that the public needs to adjust the way they can purchase it, we need to fix it within the agency."
Fannin says the "no cash" policy should have been presented to lawmakers first and now his office is receiving multiple complaints. St. Germain says accepting cash has become a burden for OMV workers, because they are on the hook if they come up short. Fannin says this is not a valid reason for why the change was made.
"If we're not coming up with enough cash at the end of the day to reconcile with the driver's license we've sold, then we should be able to look and go right to the individual that was taking the cash."
St. Germain says a major reason why the OMV will not longer accept cash as a method of payment is that it saves the state $500,000, because it costs money to handle the cash and security is needed for transporting the cash.
"That was part of it, but a lot of it had to do with employees and not having them responsible for all that cash," St. Germain said.