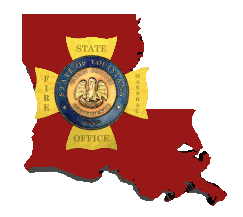 The state fire marshal's office and Department of Agriculture and Forestry has issued a statewide burn ban due to extremely dry conditions across the state. The US Drought Monitor reports that 86-percent Louisiana is currently in drought.


State Fire Marshal Butch Browning says the burn ban was issued because of dry conditions, abnormal emergency responses, and adverse future weather forecasts.
"The weather predictions, if you look over the next week and a half to two weeks, are going to be a low humidity, a prevailing wind, and really no markable rain predicted."
The burn ban is in effect until further notice. The ban applies to all private burning. Browning says violators of the ban could face consequences.
"If you set a grass fire or a trash fire, rubbish fire that gets out of control, now under this fire marshal's order it is a criminal penalty of burning."
Violation of the burn ban could result in criminal and/or civil penalties. Private burning will only be allowed by permission of your local fire department or local government. Browning says the main reason this ban is in place is safety.
"We don't want any more property damage. We certainly don't want the public to be in danger or the first responders trying to fight these fires."