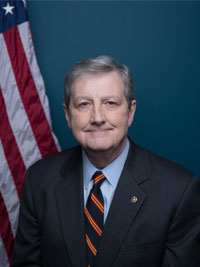 This week, two years from now, voters will cast their ballots for Louisiana's next governor. Current Democratic Governor John Bel Edwards is planning to run again. Pollster Bernie Pinsonat says Republican Attorney General Jeff Landry could challenge Edwards and tensions between the two continue to escalate. He says expect GOP leaders to keep attacking the governor on various issues.


"All of these Republicans are going to continue, the Republicans think this is a red state so they think the seat should go back to the Republicans."
Pinsonat says there's been word that along with Landry, Congressmen Garret Graves and Steve Scalise as well as U.S. Senator John Kennedy are taking a look at the governor's seat.
"The person who has the first say on this is U.S. Senator John Kennedy. He is the guy who has the power and the wherewithal to be the candidate if he wants to be."
Pinsonat says Scalise may decide to run if the Democrats take control of the House next year. He says the governor's mansion is attractive to Scalise, Kennedy and Graves because they don't have to give up their seat in Congress.
"That's a huge deal for them, I get to run for governor, if I lose I'm still a Congressman, I'm still a Senator but Kennedy is the one who decides which one of them runs."