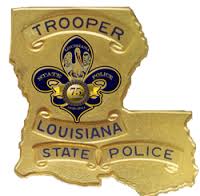 Some scary moments for a Louisiana State Trooper last night in New Orleans as a yet unidentified man attempted to get into his vehicle. Police later apprehended a juvenile and charged him with attempted carjacking of the unmarked police vehicle. Sergeant Jared Sandifer says it started when a strange car just pulled up.


"After the shooting occurring the subject got back in the vehicle that he was in and the driver of that vehicle fled the scene, however troopers were later able to find that subject on foot, so apparently he had gotten out of that vehicle at some point and troopers were able to apprehend him."
Sandifer says the trooper observed the juvenile attempt to gain entrance into his vehicle and pulled his gun.
"Unfortunately our trooper did fire his duty weapon, but luckily no one was injured as a result. The trooper was not injured, the subject was not injured, it was in a neighborhood and no bystanders or anyone like that were injured so we are thankful for that."
Legal experts say the trooper was justified in shooting at the subject because a vehicle is considered the same as your home. You do not have to retreat in your own home. Sandifer says he was later caught.
"A car pulled up next to his, and a male subject got out of that car and actually pulled on the door of the troopers vehicle and tried to get in and get in that troopers vehicle."