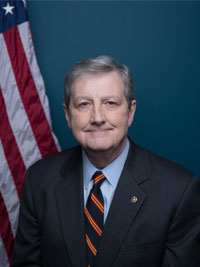 Confirmation hearings are underway for President Donald Trump's Supreme Court Justice nominee, Neil Gorsuch. U.S. Senator John Kennedy supports the president's pick and says Gorsuch is especially qualified to be a justice. He says he's read a number of Gorsuch's opinions on cases he's ruled on as a federal appeals judge, and it's apparent he is extremely intelligent.


"You write really, really well. Your opinions are engaging, whether you agree with them or not. Judge Gorsuch is direct, clear, concise, you're collegial, and you have a clean grasp of the law."
Democrats are pushing back against Gorsuch because of his conservative stance on social issues. But Kennedy says Gorsuch genuinely cares about each case he tries and the individuals involved.
"You show concern for the parties, you use their names. You don't refer to them as appellants, appellees, or respondents, you call them by their name and I like that."
Kennedy says Gorsuch supports the separation of power and understands the role of this position as a check on the legislative and executive branches. He says Judge Gorsuch has shown a desire to rule fairly and fight for his view of justice.
"I guess what I want is a cross between Socrates and Dirty Harry and I believe you just might be that person."