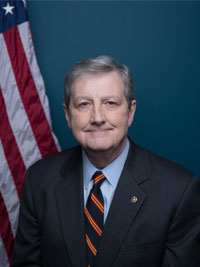 U.S. Senators John Kennedy and Bill Cassidy met with a Trump administration official this week about providing Louisiana an additional $2-billion in federal flood aid. Kennedy says they asked the director of the Office of Management and Budget, Mick Mulvaney, to include the $2 billion in a budget bill that needs to pass to keep the federal government running through September.


"Our people are not asking for any handouts. This is their tax money, that's what they pay taxes for is to get a little help after a natural disaster. We sure had a disaster."
Congress has already appropriated Louisiana $1.6 billion in flood recovery dollars. But Congressman Garret Graves says the state has not moved fast enough to get the money in the hands of flooded homeowners. The governor's office blames federal red tape. Kennedy admits this dispute could hurt the state's effort in getting the additional two-billion dollars.
"I don't know who's at fault, I don't care who's at fault. I just know the money is still sitting in the bank. I've encouraged the governor and I think he's going to do it, to try to get that money into the hands of the people as quickly as he can."
Kennedy says he's thankful for the financial assistance Congress has provided to flood victims, but it is not enough to help the middle class and the small businesses fully recover.
"I've never seen a flood this bad, it may not have had a name like a hurricane but it packed a punch like a hurricane. We need the help and we're not asking for a handout."