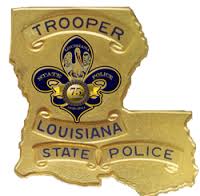 State officials are advising Louisiana residents to stay safe as winter weather moves through the state. State Trooper Scott Moreau says as freezing rain and sleet falls in many north and central Louisiana parishes, roadways are becoming more dangerous. He advises people not to drive if at all possible.


"Troopers are working numerous weather related crashes. We're asking people to stay off the roadways, not to get out on the roads and travel at all," Moreau said.
Moreau says the Department of Transportation is doing what they can to keep roadways open, but it's just a matter of time before more roads and bridges close around the state. He says if you do have to drive, it's important to take extra precautions.
"Make sure you go less than the posted speed limit, safe following distance probably about 5 or 6 seconds from the vehicle in front of you, definitely wear your seatbelt," Moreau said.
With so many people staying indoors because of the weather, state Fire Marshal Butch Browning warns residents to be careful when heating their homes. He says people should never use their stove or oven to heat their home, and always monitor space heaters.
"Those things need to be under the watchful eye. You need to have a three to four foot area completely around it with nothing that burns, no furniture, no clothes, no curtains, nothing that can catch on fire," Browning said.
Browning also urges people to make sure their smoke detectors are working properly.