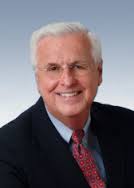 State Insurance Commissioner Jim Donelon says rates for Workers' Compensation policies have fallen for a fourth year in a row. He says this is good news for Louisiana businesses because it makes competing for jobs easier.


"It gives us a competitive advantage in competing for new job opportunities for our residents going forward," Donelon said.
Donelon says rates have seen a cumulative drop of 34% over the last 10 years, and 50% over the last 20 years. He cites workplace safety as the main reason.
"Ten years ago, there were 40,000 incidents of workplace injuries or illnesses related to the job, and in 2015 that was down to 26,000," Donelon said.
Donelon says not only could this lower rate bring new businesses here, it could also help existing companies create more jobs.
"It encourages existing businesses to expand because it makes the cost of doing that expansion even cheaper," Donelon said.