Posted on 2/16/2017 11:00:00 AM.
Louisiana State Police is ramping up enforcement in New Orleans for 2017 Carnival season and this weekend's NBA All-Star Game. Trooper Melissa Matey says LSP will send 165 troopers to the Crescent City. She says plain clothes troopers will also be along parade routes looking for individuals with illegal weapons.
More
LSP, Melissa Matey, Mardi Gras
---
Posted on 2/16/2017 10:19:00 AM.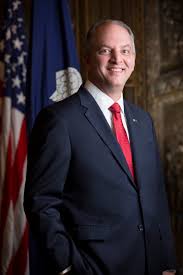 Governor John Bel Edwards re-election campaign announces he raised $3.6 million in campaign funds during his first year in office. According to finance reports, the governor ended 2016 with $3.2 million on hand. UL-Lafayette political science professor Pearson Cross says it's an impressive haul for Edwards' first year.
More
John Bel Edwards, Pearson Cross, Jeff Landry, governor's race
---
Posted on 2/16/2017 6:51:00 AM.
Teen mothers are seeing better pregnancy and parenting outcomes thanks to a program by Children's Coalition for Northeast Louisiana. The Jus4Me program was funded by a $50,000 grant from United Healthcare Community Plan of Louisiana. CEO Allison Young says 89% of the young mothers used the health and referral services at school-based health centers regularly, which had tremendous outcomes for these mothers' children.
More
Allison Young, Jus4Me, teen mothers, pregnancy
---
Posted on 2/16/2017 5:02:00 AM.
The National Safety Council finds motor vehicle deaths in 2016 rose 6% nationally from last year and in Louisiana they've increased by 5% since 2014. Ken Kolosh with the NSC says they blame distracted driving for the increase.
More
National Safety Council, Ken Kolosh, motor vehicle deaths
---
Posted on 2/15/2017 5:59:00 PM.
The House Appropriations Committee approved legislation on Wednesday that takes only $74 million from the rainy day fund, instead of the $119 million the governor recommended. The vote comes after a heated back and forth between the governor's chief budget advisor and Republican lawmakers.

More
Jay Dardenne, John Schroder, House Appropriations Committee, budget
---
Posted on 2/15/2017 4:01:00 PM.
During his 11th monthly call in radio show, Governor John Bel Edwards announced his support for two controversial issues in the Bayou State- the expulsion of state Senator Troy Brown and the construction of the Bayou Bridge Pipeline. Edwards says while the pipeline would only create about 12 permanent jobs, it would create more jobs during construction and job retention for others.
More
John Bel Edwards, Ask the Governor, Troy Brown, Bayou Bridge Pipeline
---
Previous Entry
Next Entry