Posted on 2/9/2018 1:29:00 PM.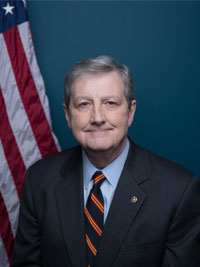 Congress approved a spending bill that reopened the federal government after a brief shutdown over the night. Louisiana's delegation voted three to five against accepting the budget deal. Senator John Kennedy voted against the bill, saying the spending increases are not paid for.
More
government shutdown, budget, John Kennedy, Ralph Abraham
---
Posted on 2/9/2018 11:26:00 AM.
The carnival season ramps up this weekend with parades all across the state. Lt. Governor Billy Nungesser says New Orleans is the focal point for Mardi Gras, but the entire state benefits from an influx of tourists who want to be a part of the celebration
.
More
Mardi Gras, Billy Nungesser, Barry Keim
---
Posted on 2/9/2018 4:30:00 AM.
Today is the deadline for Governor John Bel Edwards to call a February special session to address the looming one billion dollar budget hole resulting in the expiration of sales taxes. The governor said he would not call the session without an agreement in principle on a fiscal cliff deal, but LAPoltics.com publisher Jeremy Alford says the governor is being pushed to call the session.More
One billion dollar budget hole, Louisiana, Jeremy Alford, Louisiana sales tax, fiscal cliff, Louisiana Black Caucus
---
Posted on 2/8/2018 5:35:00 PM.
Drax Biomass is relocating its headquarters from Atlanta to Monroe, in what Governor John Bel Edwards is hailing as another big win for Louisiana's economy. Drax already operates two wood pellet manufacturing facilities and a shipping operation in the state. Monroe Chamber of Commerce President and CEO Sue Nicholson says Drax already employs 150 workers in the state.
More
Monroe, Drax Biomass, Sue Nicholson
---
Posted on 2/8/2018 3:27:00 PM.

House Republicans are looking at renewing at least some or all of the temporary one cent sales tax as a way to address a looming one billion dollar shortfall. Houma Representative Tanner Magee.
"From talking to my colleagues, I think there's some general will, especially within Republicans, to renew the penny for a little bit longer," Magee said.
Sales Tax, Tanner Magee, Ted James, Louisiana Legislature
---
Posted on 2/8/2018 12:51:00 PM.
Mandeville Representative Paul Hollis filed legislation that would make it easier for Louisianans to recall their elected representatives. Hollis says the Bayou State makes it incredibly difficult to recall a politician in a densely populated district.
More
recall, Paul Hollis, legislation, regular session, Louisiana, turnout
---
Previous Entry
Next Entry