Posted on 7/10/2018 12:00:00 PM.
A Pointe Coupee Parish man is ordered to pay $10,250 in civil restitution after being found guilty of killing a Louisiana black bear. 30-year-old Robert Kimble of Lettsworth shot and killed a female bear on Yancy Wildlife Management Area in Concordia Parish last November. General Counsel of Louisiana Wildlife and Fisheries Yolanda Martin says why she demanded the restitution.
More
Louisiana Department of Wildlife and Fisheries, Black Bear, Pointe Coupee
---
Posted on 7/10/2018 11:26:00 AM.
A 75-year-old Boyce resident now has a nice stack of cash after claiming a lottery ticket matching all five numbers with the Powerball's June 23rd drawing. Even though he didn't get the correct Powerball number, Louisiana Lottery spokesperson Dustin Annison say it was enough to give the winner, Glenn Feazell, quite the surprise the next morning.
More
Powerball, Boyce, Louisiana Lottery
---
Posted on 7/10/2018 10:40:00 AM.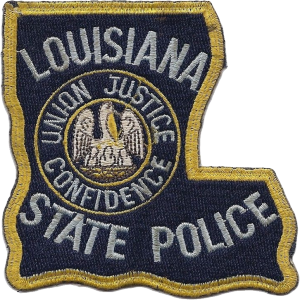 A 3 AM traffic stop today in Baton Rouge resulted in gunfire involving a Louisiana State Police trooper. Troop A spokesperson Bryan Lee says the Trooper pulled over the vehicle on Perkins Road when during the course of the traffic stop, a passenger in the vehicle became non-compliant.
More
Louisiana State Police, Troop A
---
Posted on 7/10/2018 5:33:00 AM.
The governor's office says the state saved 12-million dollars last fiscal year as a result of the criminal justice reforms approved in 2017. Louisiana Department of Corrections Secretary Jimmy LeBlanc says 70% of those savings will be reinvested into programs to reduce recidivism and support victims.
More
Department of Corrections, Jails, Criminal Justice, Jimmy LeBlanc, Louisiana, 2018
---
Posted on 7/9/2018 6:49:00 PM.
Louisiana now leads the nation when it comes to student applications for federal aid to attend college. Louisiana had one of the lowest FAFSA completion rates in the nation in 2015, and Stephanie Markham with the Louisiana Department of Education says there's now a policy requiring all graduating high schoolers to fill out financial aid forms.
More
FAFSA, Higher Ed, Department of Education, Stephanie Markham
---
Posted on 7/9/2018 3:04:00 PM.
President Donald Trump will announce his nomination for the vacant US Supreme Court position tonight at 8 PM, a decision that could tip the balance of the high court in a decidedly conservative direction. Pro-Life advocates are hoping this leads to a successful challenge of Roe vs. Wade, but ULM Political Science Professor Joshua Stockley says it's unlikely this selection will tip the scales on reproductive rights.
More
President Donald Trump, U.S. Supreme Court
---
Previous Entry
Next Entry