Posted on 8/8/2018 12:37:00 PM.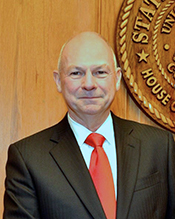 Online Fantasy Sports legalization will be on the November 6th ballot, giving voters a chance to legalize the use of online services like Draft Kings and FanDuel in their parish.
Louisiana Gaming Control Board Chairman Ronnie Jones says it's likely a few parishes won't legalize it, which means they'll have to set up geofences.
More
fantasy football, Fan Duel, Draft Kings, Ronnie Jones, geofencing, 2019 regular session, 2018, Louisiana
---
Posted on 8/8/2018 12:30:00 PM.
Swamp pop legend and trumpet player G.G. Shinn has passed away after a long illness at his home in Monroe. Shinn was 78-years-old.
Louisiana Music Hall of Fame executive director Michael Shepherd says Shinn was one of the nicest people in show business and had a great voice.
GG Shinn, Mike Shepherd, Swamp Pop, Louisiana Music Hall of Fame
---
Posted on 8/8/2018 6:38:00 AM.
The Orleans Parish Coroner's Office will determine if the female body pulled from Lake Pontchartrain Tuesday night is that of 32-year-old Sadie Thibodeaux, who has been missing since Sunday night, when an unmanned sailboat was discovered.
Authorities say Thibodeaux was on that boat with another man, who was rescued Monday morning. The coroner will also determine official cause of death.
More
Sadie Thibodeaux, Jeff Walls, NOPD, Michael Lee Farley
---
Posted on 8/8/2018 3:39:00 AM.
A US Census Bureau report says coastal counties and parishes along the Gulf of Mexico have seen an increase of 3 million people, or 24.5%, between 2000 and 2016.
The US itself has grown by nearly 15-percent over the same time. The reason for the coastal boom? Demographer Greg Rigamer says it boils down to one thing.
More
Greg Rigamer, US Census Bureau, Gulf of Mexico
---
Posted on 8/7/2018 6:47:00 PM.
An Oak Grove police officer has resigned following his arrest on charges of rape on a teenager. Authorities made the arrest following an investigation stemming from a complaint received in July pertaining to the now former officer. Senior Trooper Michael Reichardt of the LSP confirms the identity of the arrested individual.
More
Oak Grove, Lake Providence, Rape, Police, LSP
---
Posted on 8/7/2018 4:17:00 PM.
Louisiana State Police has applied for two federal grants to fund improvements to school safety after a series of school shootings earlier this year. Governor John Bel Edwards, speaking at Mckinley High School in Baton Rouge, says if awarded, the grants will fund projects highlighted by a joint commission.
More
Louisiana State Police, LSP, grants, school safety, school shootings, Louisiana, John Bel Edwards
---
Previous Entry
Next Entry