Posted on 3/13/2018 10:16:00 AM.
Louisiana State Police say a 12-year-old shot and killed his seven-year-old brother in Lake Providence Monday. Trooper Michael Reichardt says the two youngsters were together when the shooting occurred. They are still investigating how the older juvenile got a hold of a weapon.
More
Michael Reichardt, Lake Providence, 12 year old kills 7 year old
---
Posted on 3/13/2018 5:32:00 AM.
In Baton Rouge today the House Appropriations Committee will begin the long process of attempting to hammer out a budget before the end of the regular session. Commissioner of Administration Jay Dardenne doubts the legislature can pass a spending plan facing a billion dollar revenue shortfall.
More
regular session, legislation, Jay Dardenne, Cameron Henry
---
Posted on 3/12/2018 3:16:00 PM.
There are several bills filed for this legislative session that will seek to make major changes to the state's gaming industry. Executive Director of the Louisiana Casino Association Wade Duty says the state legalized riverboat gambling in 1991 and now those casinos are looking to become more attractive to players if they can have gambling space on land.
gaming in Louisiana, Wade Duty, legislative session
---
Posted on 3/12/2018 2:34:00 PM.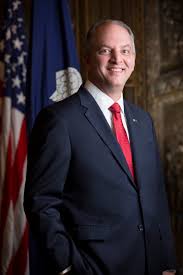 Governor John Bel Edwards kicked off the regular session today by laying out his legislative agenda, and tearing into lawmakers who failed to fix the fiscal cliff. The governor highlighted the plight of Louisiana's highest performing students, who could begin to be poached by universities in other states with TOPS still up in the air. Edwards says right now Bama is beating us academically, and athletically.
More
John Bel Edwards, regular session, fiscal cliff, TOPS, minimum wage, licensing, gun control, Alabama
---
Posted on 3/12/2018 11:40:00 AM.
Lawmakers return to the capitol today to begin the regular session, just days after the special session failed to find a resolution for a one-billion-dollar budget shortfall. LAPolitics.com publisher Jeremy Alford says the backbiting and harsh words that were slung around between legislators will have an impact. They need to work together to consider over 1,000 non revenue related bills.

"Everything from gambling and gun control to teacher's tenures, judgments paid by the state TOPS, minimum wage, Medicaid access."
2018 Legislative Session, Baton Rouge, Jeremy Alford
---
Posted on 3/12/2018 9:51:00 AM.
With the onset of spring comes seasonal allergies and this year could be a very long season. For those who suffer from hay fever, it spells many weeks of sniffing, sneezing, watery eyes and post nasal drainage. Physician Dr. Peter Boggs says the allergy season started early due to record breaking warmth in February. But there is still a lot of pollen to go around.
allergies, pollen, Dr. Peter Boggs
---
Previous Entry
Next Entry