Posted on 7/17/2018 4:36:00 PM.
Air quality warnings, and a call for an Action Day is in effect for much of the state this week as a cloud of dust descends on Texas and the Bayou State. Louisiana Department of Environmental Quality Forecaster Patrick Zahn says its dust from over 5,000 miles away.
More
DEQ, air quality, Ozone, dust, Africa, Louisiana, 2018
---
Posted on 7/16/2018 2:40:00 PM.
Two adults and one juvenile are dead after a fire engulfed a trailer in Campti over the weekend. Investigators are still unsure exactly how the fire erupted and claimed the family's lives. State Fire Marshal Spokesperson Ashley Rodrigue says it's not common to see fires that are this devastating.
More
Campti, Louisiana, State Fire Marshal
---
Posted on 7/16/2018 5:07:00 AM.
US Senator John Kennedy has filed a resolution that could lead to a congressional denouncement of the movement to abolish the Immigration and Customs Enforcement Agency.
More
ICE, John Kennedy, Congress of Day Laborers, Congresso, Louisiana, Immigration, 2018
---
Posted on 7/13/2018 4:12:00 PM.
This week at a public meeting New Orleans dove deep into questions about the effects of short-term rentals, like Air BnB on the local housing market.
More
Air BnB, Breonne DeDecker, Eric Bay, New Orleans, Louisiana, 2018, Short Term Rentals, Housing, Housing Affordability, rent
---
Posted on 7/13/2018 6:42:00 AM.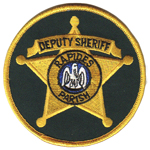 When you hear the words "court date" the first thing that comes to mind might not necessarily be the action that took place at the Rapides Parish Courthouse yesterday. An unusual sound was coming from the staircase yesterday. Spokesperson Lt. Tommy Carnline says that's when one of the employees decided to scope out the situation.
"They observed these two subjects having sex in the stairwell."
More
Louisiana, Rapides Parish, Tommy Carnline, 2018
---
Posted on 7/13/2018 6:26:00 AM.
If you are searching for a place to retire, Bankrate says you may not want to be looking at the Bayou State. Their survey determined Louisiana was the fourth worst retirement destination in the country, joined by surprise picks California and New York in the bottom 5. Bankrate analyst Taylor Tepper says there are several reasons why Louisiana is at the bottom of the list.
More
Louisiana, 2018, retirement, Bankrate.com, culture
---
Posted on 7/12/2018 6:00:00 AM.
A Tulane geologist has been selected to join scientists from around the world who are traveling to Antarctica to research the history of glaciers at the bottom of the globe. Tulane Assistant professor Dr. Brent Goehring says this could give us a peek into potential sea rise levels in the future.
More
Tulane, Geology, Brent Goehring, Louisiana, 2018, sea-levels
---
Posted on 7/10/2018 6:05:00 PM.
Governor John Bel Edwards is asking the Restore Flood task to expand the 2016 flood recovery grant program to expand grant reimbursement eligibility to 100 percent, up from the current 50 percent.
More
2016 floods, John Bel Edwards, Louisiana, grants, 2018, recovery
---
Posted on 7/10/2018 5:33:00 AM.
The governor's office says the state saved 12-million dollars last fiscal year as a result of the criminal justice reforms approved in 2017. Louisiana Department of Corrections Secretary Jimmy LeBlanc says 70% of those savings will be reinvested into programs to reduce recidivism and support victims.
More
Department of Corrections, Jails, Criminal Justice, Jimmy LeBlanc, Louisiana, 2018
---
Posted on 7/9/2018 4:58:00 AM.
Qualifying for next year's governor's race is 13 months away, so will we see Republicans who plan to challenge Democratic Governor John Bel Edwards announce their candidacy soon? Political analyst Clancy Dubos says while names from the Republican Party have been thrown around, there is no absolute answer as to when to officially announce a candidacy.
More
Senator John Kennedy, Clancy DuBos, Governor's Race 2019, Louisiana
---
Next Entry