Posted on 3/12/2018 11:40:00 AM.
Lawmakers return to the capitol today to begin the regular session, just days after the special session failed to find a resolution for a one-billion-dollar budget shortfall. LAPolitics.com publisher Jeremy Alford says the backbiting and harsh words that were slung around between legislators will have an impact. They need to work together to consider over 1,000 non revenue related bills.

"Everything from gambling and gun control to teacher's tenures, judgments paid by the state TOPS, minimum wage, Medicaid access."
2018 Legislative Session, Baton Rouge, Jeremy Alford
---
Posted on 1/9/2018 2:17:00 PM.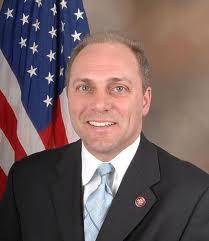 House Majority Whip Steve Scalise is undergoing another surgery Wednesday as he continues his recovery from a gunshot wound suffered last June while practicing for a charity baseball game. The bullet struck several of the Congressman's internal organs. LSU Health Level One Trauma Center's Medical Director Dr. John Hunt says it's common for shooting victims with serious injuries to undergo another surgery
.
Steve Scalise, John Hunt, 2018 legislative session
---
Posted on 1/9/2018 3:00:00 AM.
Governor John Bel Edwards has several items he would like to accomplish in the 2018 regular legislative session when it convenes March 12th. Edwards will once again ask legislators to increase the minimum wage. 18 states increased their minimum wage January 1st. He says $7.25 an hour is not enough for hard working Louisiana families.
Governor John Bel Edwards, 2018 legislative session, minimum wage
---