Posted on 8/9/2017 1:38:00 PM.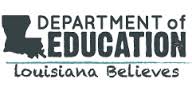 Michelle Southern reporting.
The State Department of Education announced today that students in public schools increased average ACT scores for the 4th year in a row, from 19.1 in 2013 to 19.6 today. Superintendent of Education John White said there is also a substantial rise in the number of students achieving college acceptable scores.
louisiana department of education, john white, ACT, education, public schools,
---
Posted on 7/25/2016 5:17:00 PM.

More students than ever have achieved ACT scores that allow them to go to college, according to State Superintendent John White, who says the state's composite ACT score has increased nearly a half a point since 2013. He says over 25,000 students in the Class of 2016 scored an 18 or higher on the ACT.
More
John White, Department of Education, ACT, TOPS
---
Posted on 7/16/2015 12:42:00 PM.
The state Department of Education announces that a record number of high school seniors earned a score of 18 or higher on the ACT, which allows grads to attend college without needing to take remedial courses. Superintendent of Education John White says nearly 25,000 students earned a college going score on the ACT, a 35 percent increase from 2012.
More
ACT, John White, Department of Education
---