Posted on 4/27/2014 4:59:00 PM.
The 6th ranked LSU baseball team erupted for five runs in the eighth and went on to beat Tennessee 9-4 to take two of three from the Vols during their weekend series. Coach Paul Mainieri says it was a quality win over an improving Volunteers baseball team.
LSU, Tennessee, Paul Mainieri, Aaron Nola, Kurt McCune, Alabama
---
Posted on 6/16/2013 10:08:00 PM.
UCLA sco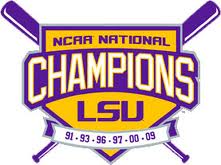 red one run in the 6th inning and the another run in the 8th inning and that's all they needed to beat LSU 2-1. Both of the runs were unearned as Aaron Nola suffered his first loss of the season.

Tigers, Bruins, Aaron Nola
---
Posted on 6/7/2013 8:34:00 PM.
Game one of the super regional series was advertised a pitcher's duel and that's what the record crowd at Alex Box Stadium got. The Tigers Aaron Nola was the better of the two starting pitchers as he threw a two-hit complete game shutout in a 2-0 win over Oklahoma.
LSU, Aaron Nola, CWS
---