Posted on 1/18/2018 11:29:00 AM.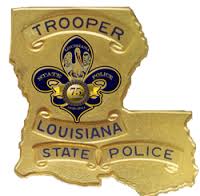 An off-duty Alexandria police officer was killed in an accident in Grant Parish Wednesday. 53-year-old Sgt. Travis Lowe of Deville was southbound on Highway 167, when he lost control of his pickup truck and collided with a large tree. Master State Police Trooper Scott Moreau says the frigid weather didn't play a factor in the accident.
Travis Lowe, Scott Moreau, Alexandria Police Department
---
Posted on 7/13/2016 3:35:00 PM.
The Alexandria Police Department is moving towards equipping its officers with body cameras. Councilman Ed Larvadain says the city has the $800,000 to purchase the cameras for 130 police officers. Larvadain says this is an issue of safety and accountability.
More
Ed Larvadain, Alexandria Police Department, body cameras
---
Posted on 2/26/2015 12:30:00 PM.
The Rapides Parish Sheriff's Office says a now former Alexandria Police Officer is under arrest amid allegations he had sex with a juvenile. Lt. Tommy Carnline says they first got the complaint on December 1st of last year.
alexandria police department, cop, deric reed, juvenile, rapides parish sheriff's office
---