Posted on 6/9/2017 7:21:00 AM.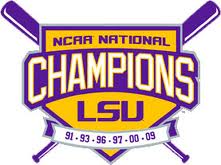 LSU and Mississippi State is one of the best rivalries in college baseball. But for only the second time in their long history, these two teams will meet in the postseason. They also met in a winner's bracket game in the 1998 College World Series, with the Tigers winning 10-8.
LSU, Mississippi State, Brent Rooker, Alex Lange, Jacob Billingsley, Andy Cannizaro, Paul Mainieri, College World Series
---
Posted on 6/6/2017 5:42:00 PM.
One of the best rivalries in college baseball writes an exciting new chapter when LSU meets Mississippi State in the Super Regionals. There's added intrigue, because former Tigers hitting coach and recruiting coordinator Andy Cannizaro is the head coach of the Bulldogs.
LSU baseball, Paul Mainieri, bad blood, Andy Cannizaro
---
Posted on 7/21/2014 5:35:00 PM.
Former Tulane star Andy Cannizaro has been introduced as LSU's new recruiting coordinator and hitting coach. Cannizaro was a standout shortstop for the Tulane Green Wave in the late 1990s and early 2000s. Cannizaro has worked as a scout for the New York Yankees since 2009 and the Mandeville native is pumped up to join the purple and gold.
LSU Baseball, Andy Cannizaro, Paul Mainieri,
---