Posted on 6/6/2018 9:59:00 AM.
An Opelousas man is under arrest after allegedly setting a series of fires targeted at harassing his ex-girlfriend. The suspect, 35-year-old Austin Ceasar, was slapped with a series of arson-related charges after authorities found evidence that connected him to three fires dating back to March 9
th
.
More
Opelousas, Arson, Fire Marshal, Fire, St. Landry Parish
---
Posted on 11/8/2017 11:58:00 AM.
A fire in Many destroyed the SARC of Sabine Workforce building, which helps developmentally disabled persons get employment. State Fire Marshal Butch Browning says the investigation is moving along quickly after witnesses described a suspicious person near the building after the fire started. Police found the alleged suspect 25-year-old Brett Shoemaker soon after that
.
More
SARC of Sabine, Many, arson
---
Posted on 7/12/2017 4:50:00 AM.
An Amite Walmart that was set on fire recently sustained over a million dollars in damage. That's according to Sheriff Daniel Edwards, who says much of the damage was to the inventory in the store, not structural damage to the building. He says 45-year-old Larry Schouest of Hammond combined chemicals to start the fire.
More
Daniel Edwards, Larry Schouest, arson, Tangipahoa Parish
---
Posted on 4/13/2017 11:27:00 AM.
Authorities are still not sure why a Vermillion Parish man set fire to a home killing an 89-year-old Ponchatoula woman who lived there. Tangipahoa Sheriff Daniel Edwards says 26-year-old Timothy Rouchon of Abbeville is currently being held in Livingston Parish on an unrelated charge. He says they don't know of a motive, but the suspect did know Dorothy Poche.
More
Daniel Edwards, Timothy Rouchon, Dorothy Poche, arson, murder
---
Posted on 7/20/2016 1:33:00 AM.
There are plans to rebuild the Civil War-era Governor's Mansion that was intentionally burned down a week ago today in Opelousas. Mayor Reginald Tatum is upset the original structure was destroyed, but he says the foundation of the old structure is still in good condition to rebuild. He says the building's owners are seeking emergency funds to pay for a new mansion through the national trust for historic preservation.
More
Old Governor's Mansion, Opelousas, Fire Marshal, arson, Reginald Tatum
---
Posted on 11/24/2015 9:52:00 AM.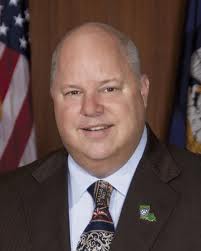 The Louisiana Department of Agriculture and Forestry, the state Fire Marshal's Office, and local authorities are seeking information on 86 suspected arsons. Ag Commissioner Mike Strain says the suspicious fires happened between August 30th and October 21st.
Louisiana, arson, reward, Department of Agriculture, Fire Marshal, Mike Strain
---
Posted on 10/14/2015 12:16:00 PM.
State Agriculture and Forestry Commissioner Mike Strain say authorities are searching for an arsonist who was responsible for several fires set across north Louisiana. Strain says state firefighters were battling ten fires in six different parishes yesterday and he believes some of them were intentionally set.
More
arson, Department of Agriculture and Forestry, Mike Strain, Caddo, Claiborne, Morehouse, Bienville, West Carroll, Sabine
---
Posted on 3/10/2014 12:34:00 PM.
Authorities
say a 32-year-old Anacoco man is facing seven counts of attempted second-degree murder after setting fire to a trailer following a domestic dispute.Major Marvin Hilton with the Vernon Parish Sheriff's office said James Aubery Moses was arrested early Sunday morning.

arson, domestic abuse, Vernon Parish
---
Posted on 1/16/2014 11:38:00 AM.
Houma police arrested a 46 year old man for allegedly setting his girlfriend's house on fire. Homua Police Chief Todd Duplantis says first responders were called to scene shortly before 3 o'clock this morning. "The house was completely engulfed in flames. There were were four occupants at the time of the fire."
house fire, arson, domestic dispute, crime
---