Posted on 5/29/2017 3:34:00 PM.
By Jeff Palermo
LSU will begin NCAA Regional play on Friday at Alex Box Stadium by hosting SWAC Tournament champion Texas Southern. Southeastern Louisiana and Rice are also coming to Baton Rouge.More
Baton Rouge Regional, LSU, NCAA baseball tournament
---
Posted on 6/5/2016 10:21:00 PM.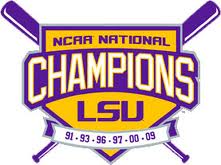 LSU is in the championship round of the Baton Rouge Regional after a 4-2 win over Rice on Sunday night at Alex Box Stadium. Alex Lange pitched like an ace as he tossed eight plus innings, allowing just two runs and striking out 10.
Lange threw 112 pitches and also had to wait out a one hour rain delay to earn his 8th win of the year.
LSU, Greg Deichmann, Alex Lange, Rice, Baton Rouge Regional
---