Posted on 5/21/2018 12:17:00 PM.
Breaux Bridge Representative Mike Huval's distracted driving bill found a surprising amount of success but ultimately failed to cross the finish line. The bill would bar drivers from touching their phone while on the road. Huval says the surprising momentum the legislation gained indicates a growing interest in safer roads.
Mike Huval, Breaux Bridge, Safe Driving
---
Posted on 5/4/2018 11:50:00 AM.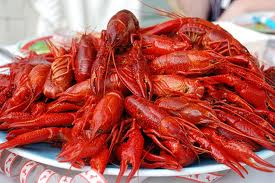 The Breaux Bridge Crawfish Festival is expecting 30 to 35 thousand people to attend this weekend's massive festival just outside Lafayette. Festival Spokesperson Angelique Bernard says an unbelievable amount of mudbugs will be consumed over the three days.
More
Breaux Bridge, Crawfish Festival, crawfish, Louisiana
---
Posted on 5/5/2017 2:17:00 AM.
If you love crawfish, then Breaux Bridge is the place to be this weekend for Crawfish Festival that begins today. Publicity Director Angelique Bernard says this festival is huge for the St. Martin Parish town of about 8,000, as the three-day event draws 30,000 people a year. She says there's plenty of festivities for attendees to enjoy.
More
Angelique Bernard, Crawfish Festival, Breaux Bridge
---
Posted on 10/9/2015 11:48:00 AM.
After a lengthy investigation, authorities in St. Martin Parish have busted a cockfighting ring in Breaux Bridge. Major Ginny Higgins says three men were arrested for their part in cockfighting and were booked into the St. Martin Parish Correctional Center.
More
cock fighting, St. Martin Parish, Ginny Higgins, Breaux Bridge, Dallas Grossie, Brandon Cormier, Patrick Stelly
---
Posted on 11/4/2014 11:14:00 AM.
The man accused of killing two teenage girls and injuring a third in Breaux Bridge last week remains hospitalized in guarded condition and has only told detectives a few details about the fatal wreck. Master Trooper Brooks David says 32-year-old Jeremy Abraham has yet to be charged in the incident.
More
Brooks David, Jeremy Abraham, Breaux Bridge, Cornasha Flugence, Kylee Henry
---
Posted on 10/31/2014 12:21:00 PM.
State Police say the driver who struck and killed two girls in Breaux Bridge yesterday will be charged with two counts of vehicular homicide. Lt. J.B. Slaton says 32-year-old Jeremy Abraham was traveling at a high rate of speed when his pick-up truck collided with the victims.
Breaux Bridge, two children killed, JP Slaton. Jeremy Abraham
---
Posted on 10/30/2014 5:02:00 PM.
Two teenage girls were killed and a third child was seriously injured while walking to school Thursday morning in the St. Martin Parish town of Breaux Bridge. State Police trooper Jared Sandifer says for an unknown reason a vehicle ran off the road, striking three children who were on a residential street.

Breaux Bridge, two children killed, Louisiana State Police
---
Posted on 2/25/2014 5:33:00 PM.
A second person has been arrested as a result of an alleged dog fighting operation that was broken up last week in Breaux Bridge. St. Martin Parish Sheriff spokesperson Ginny Higgins says 33-year-old Antonio Boyd is facing 47-counts of cruelty to animals and his bond has been set at 140-thousand dollars.
Breaux Bridge, dog fighting, Jason Haskett, Antonio Boyd, St. Martin Parish Sheriff's office, Ginny Higgins
---
Posted on 2/20/2014 11:04:00 AM.
Michelle Southern reporting.
The St. Martin Parish Sheriff's office says a 25-year-old man from Natchitoches is facing dog fighting charges after investigators found 47 dogs during a search of a Breaux Bridge residence. Major Ginny Higgins says they received an anonymous tip regarding suspicious activity going on at this location.
More
dog fighting, st mary parish sheriff, breaux bridge, ginny higgins, jason hasket
---