Posted on 6/14/2017 3:31:00 AM.
The city of Omaha is excited LSU is back in the College World Series. Tracie McPherson with Visit Omaha says they always enjoy when Tiger fans visit, because the Purple and Gold Nation love a good party. She says there is a speakeasy where fans can experience a unique time.
More
CWS, LSU, Omaha, Tracie McPherson
---
Posted on 6/17/2013 12:25:00 PM.
Coach Paul Mainieri will start sophomore left-hander Cody Glenn on the mound in Tuesday's elimination game.
Glenn is 7-and-2 with a 2.41 ERA. He'll be making his first start since May 22nd. Glenn missed the Baton Rouge regional due to a suspension and he did not get to pitch in the super regional series Oklahoma.
LSU, CWS, Cody Glenn
---
Posted on 6/14/2013 11:54:00 AM.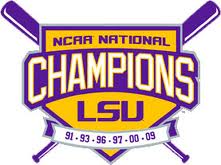 Sunday night can't get here soon enough for the LSU Tigers. That's when they'll play UCLA in their first game at the College World Series.
Baseball America's Aaron Fitt believes the Tigers are the team to beat.
LSU, CWS, Baseball America
---
Posted on 6/13/2013 3:49:00 AM.
The LSU baseball team leaves this morning for Omaha, the site of the College World Series. The Tigers play their first round game against the UCLA Bruins on Sunday at 7 PM.
The Tigers are set to arrive at their team hotel in Omaha at around 11 AM and then practice this afternoon at a local high school.
LSU, CWS, Mainieri
---
Posted on 6/10/2013 6:28:00 AM.
The LSU team will leave on Thursday for Omaha, where they'll play the College World Series at the new TD Ameritrade Park. The Tigers will take on UCLA in their first game. Coach Paul Mainieri likes his team's chances.
LSU, Mainieri, CWS
---
Posted on 6/8/2013 10:21:00 PM.
The Tigers punched their ticket to the College World Series with an impressive 11-1 win over Oklahoma on Saturday night. The win completed a two-game sweep of the Sooners in the Baton Rouge Super Regional Series.
LSU 2B Jacoby Jones led the way with a 4-for-4 performance, including a solo home run.
LSU, Jacoby Jones, CWS
---
Posted on 6/7/2013 8:34:00 PM.
Game one of the super regional series was advertised a pitcher's duel and that's what the record crowd at Alex Box Stadium got. The Tigers Aaron Nola was the better of the two starting pitchers as he threw a two-hit complete game shutout in a 2-0 win over Oklahoma.
LSU, Aaron Nola, CWS
---