Posted on 6/18/2018 1:30:00 PM.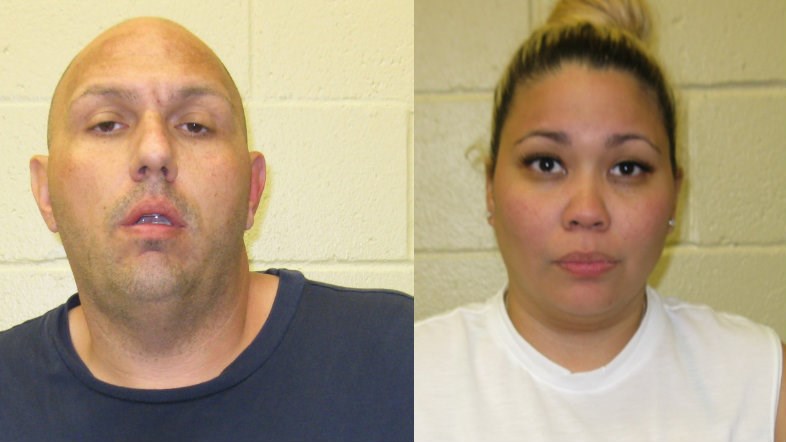 A Denham Springs couple is looking at 35 years in prison following two different traffic stops on Interstate 10 in Calcasieu Parish. State Police Sergeant James Anderson says during the stops, a total of 25 illegal aliens were discovered in large SUVs.
Denham Springs, Calcasieu Parish, Louisiana State Police
---
Posted on 9/12/2017 10:59:00 AM.
Recovery is underway in Calcasieu Parish after Tropical Storm Harvey left major flood damage in some areas. Dick Gremillion, Director of the Parish Office of Homeland Security and Emergency Preparedness, says while the destruction is not as bad as Texas, 800 to a thousand structures in Calcasieu sustained water damage. He says they are waiting to see if they will be declared a Federal Disaster Area.
Calcasieu Parish, Dick Gremillion, Harvey
---
Posted on 8/30/2017 10:26:00 AM.
Calcasieu Parish officials say they dodged a bullet when Tropical Storm Harvey made a second landfall on the western Louisiana coast. Sheriff Tony Mancuso says while the western side of the parish did get a lot of rain overnight, it wasn't enough to cause major widespread flooding.
More
Tony Mancuso, Tropical Storm Harvey, Calcasieu Parish, flooding
---
Posted on 8/29/2017 10:37:00 AM.
Flood waters in Lake Charles are rising and rescues have already been conducted. Dick Gremillion with the Calcasieu Parish Office of Homeland Security and Emergency Preparedness says a rain band that came in at around 5 p.m. yesterday caused immediate flooding.
More
Harvey, Tropical Storm Harvey, Calcasieu Parish, flood
---
Posted on 8/8/2016 10:57:00 AM.
A 76-year-old man accused of killing his wife over 50 years ago in southwest Louisiana will finally stand trial. Jury selection is underway in Calcasieu Parish as Mississippi native Felix Vail is charged with 2nd degree murder for allegedly killing his 22-year-old wife, Mary Horton Vail, in 1962. Legal analyst Tim Meche says it's difficult to try a case after such a long time, because evidence deteriorates and there's no DNA.
More
Tim Meche, Felix Vail, Mary Horton Vail, Calcasieu Parish
---
Posted on 5/17/2016 2:00:00 PM.
An elderly couple was stabbed by a 17-year-old in the driveway of their home in Calcasieu Parish. Calcasieu Parish Sheriff Tony Mancuso says 69-year-old Robert Anderson is deceased, and his wife 57-year-old Rita Anderson is in critical condition at a local hospital. Mancuso says Antonieo Smith of Sulphur attacked the couple as they were coming home. Mancuso says Smith knew the Andersons.
More
Tony Mancuso, Calcasieu Parish, Antonieo Smith, Robert Anderson, Rita Anderson
---
Posted on 9/24/2015 1:53:00 AM.
Today marks the 10th anniversary of Hurricane Rita and many remember the destruction it caused only a month after Katrina. Lafayette Congressman Charles Boustany recalls the immense flooding and tornadoes that slammed into southwest Louisiana. He says the only fortunate thing that came out of this tragic event was there were no lives lost.
More
Charles Boustany, Hurricane Rita, Cameron Parish, Calcasieu Parish,
---
Posted on 8/11/2015 12:35:00 AM.
In an online study conducted by Only in Your State, the Calcasieu Parish town of DeQuincy was named the safest place to live in Louisiana. DeQuincy Mayor Lawrence Henagan says he is happy that his town of nearly 3,200 residents is a place with no violent crimes.More
Calcasieu Parish, DeQuincy, Lawrence Henagan
---
Posted on 6/25/2015 1:49:00 PM.
A man wanted for the murder of his estranged wife in Calcasieu Parish has been added to the FBI's Most Wanted fugitive list. Forty-seven-year-old Joe Matthew Constance has not been seen since he shot and killed Mary Duhon on June 5th, 2011. Calcasieu Sheriff Tony Mancuso says they hope the FBI's help can bring Constance to justice.
More
FBI, Most Wanted, Joe Constance, Calcasieu Parish, Mary Duhon, Tony Mancuso
---
Posted on 10/31/2014 11:54:00 AM.
A 16-year-old student from Sam Houston High School in Lake Charles is dead after he fell off the roof of an SUV. Commander James McGee, with the Calcasieu Parish Sheriff's office, says Kaleb Franks and another teen were sitting on top of the SUV, with their feet on the inside of an open sunroof, when the driver made a quick jerking motion with the steering wheel
.
More
Kaleb Franks, SUV, Sam Houston High School, Calcasieu Parish
---
Next Entry